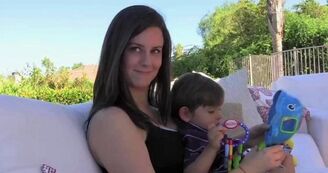 Hunter Rey
is the newborn son of
Kristi
and
Daniel Rey
.
Katie Featherston
is Kristi's sister making her aunt to Hunter Rey.
In Paranormal Activity 2, after prequel of events, Hunter was to be taken by a demon after Kristi's grandmother made a deal with the demons years before. A possessed Katie kills Micah, Daniel and her sister Kristi before taking baby Hunter.Hunter and Katie's whereabouts remain unknown until Paranormal Activity 4, when Hunter is adopted in Henderson, Nevada by Alex's family and is re-named Wyatt.
History
Paranormal Activity 2
In June 2005, Hunter Rey is born to Kristi and Daniel. He is the first male child to be born on Kristi's side of the family since the 1930's.
On August 11th, 2006, Hunter is traumatized by a loud noise and crying. Martine grabs Hunter and blesses the house to ward off the demon.
On August 18th, 2006, Ali and her boyfriend play with the Ouija Board, ask what the spirit wants, and don't realize the spirit on the other side has spelled out hunter's name. His older half-sister awoken from the demon's presence and lured outside and is locked out of the house. Hunter is semi-possessed by the demon until his parents arrive home. Upon his parents arrival home, Ali is absent and the demon leaves Hunter crying which alarms Kristi and Daniel to become upset with Ali more.
On October 9th, 2006, Hunter's mother and father are murdered by his possessed Aunt Katie and kidnapped. It was unknown of their whereabouts for the next five years.
Paranormal Activity 4
Five years later, In November 2011, now six years of age and adopted into a new family in Henderson, Nevada. The little brother of Alex in the movie is actually Hunter but named "Wyatt".
One theory about Wyatt: She (Katie) moved him in with the family to get him a real life until it was the right time. Then Robbie moved in across the street in order to get "Hunter" ready for his role. The reason why nobody suspected Wyatt as Hunter is because she put him up for adoption in another state. 
From an interview on mtv.com with the directors (mtv.com article ), Joost and Schulman say that yes, Wyatt is Hunter, but do not tell why or how he was adopted by this family, only that it would have to be the subject of another movie. They also said that Robbie is "...sort of a messenger for the coven, and he has a relationship with Toby where, if it's time for Toby to meet a new child, Robbie can service that arrangement as the introduction." n
Community content is available under
CC-BY-SA
unless otherwise noted.